Rottlace
Christoph Bader, Dominik Kolb, Prof. Neri Oxman.
Description
"God hath given you one face, and you make yourself another."
—William Shakespeare.
Rottlace is a family of masks designed for Icelandic singer-songwriter Björk. Inspired by Björk's most recent album—Vulnicura—the Mediated Matter Group explored themes associated with self-healing and expressing 'the face without a skin.' The series originates with a mask that emulates Björk's facial structure and concludes with a mask that reveals a new identity, independent of its origin. What originates as a form of portraiture culminates in reincarnation.
The designs are informed by the geometrical and material logics that underlie the human musculoskeletal system; specifically, the complex structure of muscles, connective tissues, tendons, and ligaments that modulate the human voice. This continuous weave of dense collagen fibers form functional 'typologies' of connections: muscle-to-bone, bone-to-bone, and muscle-to-muscle. As in the human body, where continuous, collagenous elements alter their chemical and mechanical properties as a function of the tension they exert or endure, each mask is designed as a synthetic 'whole without parts.' The masks incorporate tunable physical properties recapitulating, augmenting, or controlling the facial form and movement behind them. Inspired by their biological counterpart, and conceived as 'muscle textile,' the masks are bundled, multi-material structures, providing formal and structural integrity, as well as movement, to the face and neck.
One of the masks from the series was selected for Björk's stage performance at the Tokyo Miraikan Museum, and 3D printed by Stratasys using multi-material 3D printing. This process enables the production of elaborate combinations of graded properties distributed over geometrically complex structures within a single object. The project implements Stratasys' Connex3 technology using three materials with pre-set mechanical combinations varying in rigidity, opacity, and color, as a function of geometrical, structural, and physiological constraints.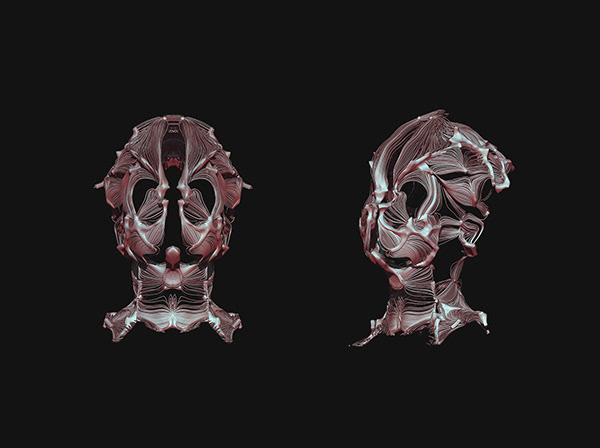 Building on previous projects created by Neri Oxman and her team, in collaboration with Stratasys—including Imaginary Beings (2012) and Wanderers (2014)—Rottlace is similarly printed as a single, multi-functional material system, composed of rigid materials combined with nano-enhanced, elastomeric structures. The intricate fibrous tissue is made of soft and flexible materials designed to accommodate facial movement. The materials' durometer varies as a function of the structural type they are intended to provide. Continuous property transitions—ranging from stiff bone-like structures to semi-flexible ligament-like structures, to flexible fiber-based connective tissue structures—are computationally generated and digitally fabricated. Specifically, the fibrous tissue is computationally generated as modified principal curvature directions of Björk's facial scan—obtained as point cloud data—while the bony-like tissue emerges as support structure at points of high divergence from the principal curvature field. While bone-like locations are geometrically informed, their material composition is continuously graded—from stiff to flexible, and from opaque to transparent—as a function of geodesic distances given by the face-scan. Graded and tunable material properties are achieved through custom software as well as heterogeneous material modelling workflows. Combined, this computational framework enables micron scale control of 3D printable material placement over highly complex geometric domains. This enables the design and 3D printing of complex, large-scale objects with continuous variations of modulus and transparency, within a single build. Properties, such as structure to material composition, of each mask include a number of length-scales, informing their mechanical properties and behavior: (1) on the centimeter scale, the 3D printed musculoskeleton is designed to allow for flexible movement, while providing integrity to, and support of, its overall form; (2) on the millimeter scale, the fusing and parting of fibers with varying material compositions enables the overall structure to be self-supporting; and (3) on the micron scale, material droplets are placed, diffused, and spatially aggregated to provide continuous material variation within a single 'muscle-skin' object.
Acknowledgments
Designed by the Mediated Matter Group. Produced by, and in collaboration with, Stratasys Ltd.. Researchers include Christoph Bader, Dominik Kolb, and Prof. Neri Oxman.